Wire Me Electric, an established force in the industry, has been illuminating outdoor spaces with exceptional brilliance for over two decades. With a deep commitment to excellence and an unwavering dedication to customer satisfaction, they have become the go-to resource for homeowners seeking to transform their backyards from the mundane to the magnificent.
If you've been dreaming of turning your backyard into the social hub of your home, where family and friends gather to create unforgettable memories, you've come to the perfect place. With this post, we aim to take you on a journey exploring the vast possibilities and opportunities that Wire Me Electric can offer to help you achieve a stunning, energy-efficient, and contemporary outdoor lighting solution. Wire Me Electric's expertise is more than just providing lighting; it's about creating atmospheres. It's about understanding that the right lighting can change the way we see and interact with a space. It can convert a simple patio into a luxurious oasis or a quiet garden into an enchanting forest. It's this comprehension of the transformative power of lighting that sets Wire Me Electric apart from the rest.
Why Does Outdoor Lighting Matter?
Aside from making your space look fun and exciting to be in, it greatly increases the safety and security of your home. Brightly lit paths and entryways deter intruders and help prevent accidents. The recent advances in energy-efficient residential lighting also make it so that you can introduce all of this lighting into your outdoor space without drastically increasing your carbon footprint. We specialize in modern residential outdoor lighting that is both functional and visually appealing. We use the latest LED technology to create the perfect setting for entertaining, relaxing, or simply enjoying the outdoors. Our team of experts can help you design and install a custom lighting plan that fits your needs and budget. When it comes to outdoor lighting, there are a TON of options to choose from.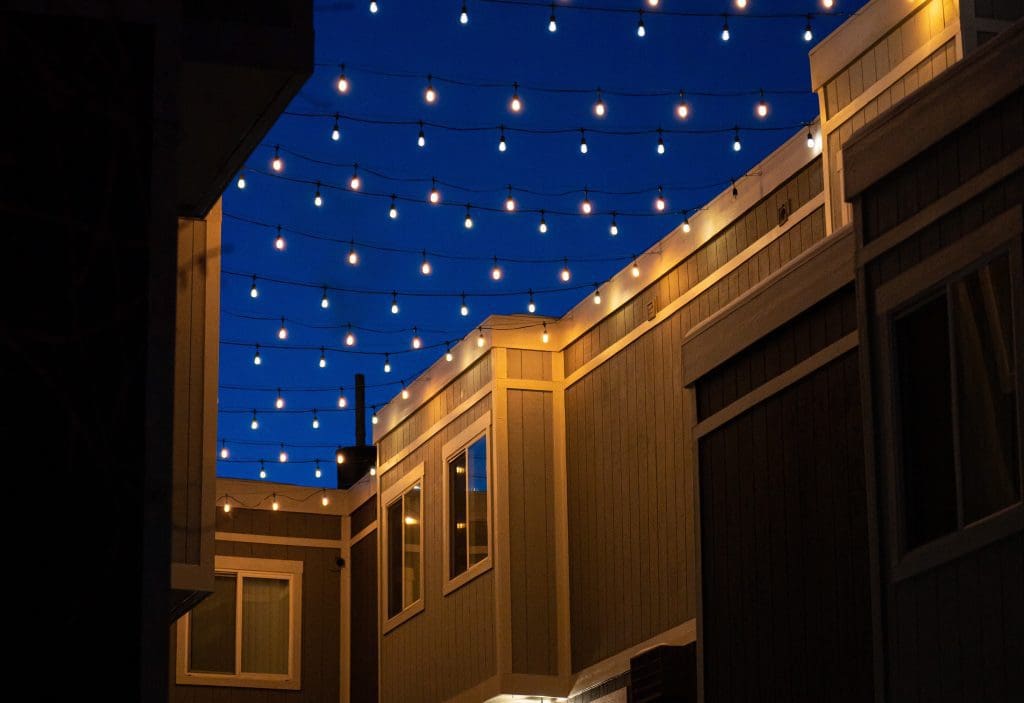 How Wire Me Electric Can Help You Enhance Your Space:
Landscape Lighting:
Emphasize the natural splendor of your favorite trees, shrubs, and unique landscape features with the strategic placement of lights. Landscape lighting does more than just adorn your yard - it adds depth, dimension, and an intimate feel to your outdoor space. The implementation of modern residential outdoor lighting like this does not only enhance your evening view but also considerably increases your property value. Additionally, it significantly reduces the risk of accidents by improving visibility in your garden. This lighting design method is more than just an aesthetic enhancement; it's an investment in the overall appeal and safety of your home.
Pathway Lighting:
Cast a welcoming glow on your walkways and pathways with our energy-efficient residential lighting. Pathway lighting goes beyond the fundamental aspect of safety improvement - it adds a touch of elegance and sophistication to your outdoor space. With a well-curated pathway lighting system, you can accentuate the architectural features of your home, beautifully landscaped yards, and other outdoor elements. This creates a breathtaking visual display that provides enjoyment in both daytime and nighttime settings, seamlessly blending practicality and beauty.
Deck and Patio Lighting:
Immerse in the pleasures of outdoor living well into the evening with our tailored deck and patio lighting solutions. Whether you're orchestrating a lively party or savoring a tranquil night under the stars, our custom lighting solutions will enhance the mood and ambience. We offer a range of options, including soft-glowing recessed lighting, festive string lights, sophisticated wall sconces, and practical stair lighting. With our commitment to the highest quality, energy-efficient residential lighting, any lighting choice you make for your deck or patio promises to be an excellent one, radiating warmth and adding charm to your outdoor experiences.
Pool Lighting:
Dive into a visual spectacle with our expertly curated pool lighting. Our professional team can develop a tailored lighting plan that emphasizes your pool's best features, creating an eye-catching visual effect that will be the envy of your guests. Pool lighting is an ingenious way to add a layer of visual interest and create a serene ambiance in your backyard. With the correct lighting design, your pool transforms into a dazzling nighttime centerpiece, making it a perfect setting for hosting gatherings or simply unwinding after a hectic day. With the touch of our expert lighting solutions, your poolside becomes a sanctuary of relaxation and entertainment.
Why Work With Us?
At Wire Me Electric, we pride ourselves on offering an extensive variety of energy-efficient residential lighting, each designed to bring out the unique charm of your space. Our repertoire ranges from cutting-edge LED landscape lighting to dynamic deck and patio illumination, all backed by our rich expertise and years of experience in the field. If you're in pursuit of an outdoor lighting electrician who can take your space to new heights with modern residential outdoor lighting, your search ends with Wire Me Electric. Our blend of top-tier lighting solutions and seasoned expertise ensures that you will experience your outdoor space in an entirely fresh and exciting way.
The importance of outdoor lighting as an integral component of a home's aesthetic appeal and safety measures cannot be overstated. Whether your goal is to generate a warm, inviting ambiance for social gatherings, or to highlight and accentuate your favorite landscape features, our adept team of professionals is fully equipped to meet and exceed your expectations. We work closely with our clients, understanding their vision and requirements, and translating them into a reality that not only meets but surpasses their expectations.
So why wait any longer? Reach out to Wire Me Electric today and embark on a journey to redefine your outdoor living experience. Let's collaborate on your outdoor lighting project and illuminate your outdoor space in a way that complements your lifestyle, enhances your home's beauty, and elevates your nighttime outdoor experience.